Miami's IT Support Expert
Grove Networks was founded in Miami in 2000. Nearly 15 years later we have served hundreds of local businesses and are the plug-in IT department for dozens of local and international companies. Our proven processes, standards, and best-practices were developed over 16 years in boutique hospitality IT support and enterprise IT management to deliver results. Those results translate into 4x-16x fewer issues than industry averages and we can prove it! Imagine how challenging it is to support dozens of hotel businesses 24 x 7 x 365 - some of which are in exotic and remote locations. Combining OUR PEOPLE and OUR PROCESS using ordinary discipline produces extraordinary results.
It has always been our goal to provide enterprise-level IT solutions to companies with as few as 10 users at a fixed monthly fee. Our solutions start with discipline to our process and standards. We then apply perpetual improvement and management through data-driven Key Performance Indicators (KPIs). If you can't measure it, you can't manage it. We guarantee to run your business by the numbers and NOT by the seat-of-our-pants or give you a "gut" decision. Investing in the right people in the right seats through training, following a common vision to service excellence through our process is why we were named the #1 MSP based in Miami and #5 in Florida. We have over 50 collective certifications, 100% money-back guarantee, and our Client Satisfaction score is 97% positive versus the 93% best-in-class average. Grove Networks was also named the Coral Gables Chamber of Commerce 2015 "Shooting Star" Award winner for mentoring young professionals, and a 2016 Diamond Awards finalist in the Tech Business category.

Let us help you understand what IT really can be, and how it can be viewed as an asset by everyone in your organization!
Andrew Judge, Founder and CEO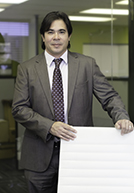 Andrew Judge founded Grove Networks in 2000 to provide big business quality IT support to small businesses throughout Dade and Broward counties. Today, Grove Networks serves small businesses to Fortune 500 Companies in the US, Caribbean and South America with over two hundred clients in 12 countries and 15 states.
A graduate of the University of Miami with a Masters from the University of Rhode Island, he has attained over 30 certifications from Microsoft and Apple, to VMware and DataCore. He has serviced and/or taught organizations such as IBM, Sun Microsystems, EDS, EMC, Wachovia, Bank United, and Raytheon.
While in graduate school, Andrew built his own aircraft, and he still enjoys flying both for business and pleasure. He is also an FAA certified pilot with single-engine land, multi-engine land, multi- and single-engine instrument ratings. He participates in EAA Young Eagles, introducing children and young adults to aviation. Andy is a proud member of Sigma Chi and participates quarterly with our board of advisors in Heartland Technology Group.
If you are dedicated to growing your business and understand that technology is an important tool to enable that growth, we'd love to talk to you.
Contact us today to find out how Grove Networks can help your business!